October 05, 2020
What are Short Sims?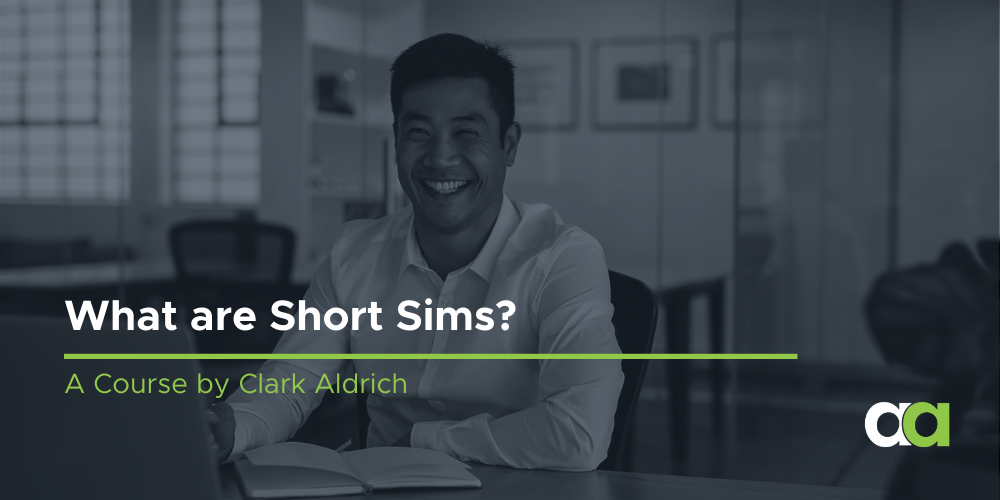 By Clark Quinn
Role plays.  Flight simulators.  Sports scrimmages.  Computer games.  Wargames. Erector sets.  Group challenges. Acting workshops. Labs.  Moot courts.  
These great learning experiences have a few things in common.   They are all "Learning to do."  And they all get us to Short Sims.
A Short Sim is a new kind of online educational scenario.  Unlike its predecessors, it is cost- and time-effective to create for corporations and universities.  
Corporate Example:  Returning to Work
Most importantly, Short Sims are better than the traditional online workbook modules they replace. They are faster, more effective, and provide better metrics.  And learners like them.
Organizations adopting Short Sims usually start off by building and implementing them for new sales programs, corporate strategies, ethics, cybersecurity, and new COVID19 policies.  But many will grow their uses over time to support deep skills developments - in scientific or high potential programs - as with MBA students.
Short Sim use grows quickly because they feel familiar by design.
I developed the Short Sim pedagogy based on decades of research and experimentation of established "learning to do" practices, including level design, built-in coaching, goal setting, and intrinsic feedback.  But the approach also takes advantage of the newest tools to reduce cost, time, and skill sets.
Most significantly,  Short Sims align with how we learn from real world experience.
Lab Example: Demand Curves
How can organizations start with Short Sims?
It is easy to learn how to create a first Short Sim.  Yet, designers can spend decades deepening their skills.  
To start, organizations can do any or all of the following:
Hire someone to build the first few

Train developers to build them internally

Implement a first Short Sim, such as "Back to Work"
(The average Short Sim takes 40 hours to create, takes 10 minutes for the learner to play, and replaces 30 minutes of traditional content.)
For organizations wanting to train their developers, the best way available now is the Allen Academy course I will be leading...
_________________________________________________________________________
Course: Training with Short Sims 
A Course from Clark Aldrich
 In this course, you will:
Explore the learning psychology behind Short Sims
View and interact with many example Short Sims and case studies
Design a Short Sim of your own
Examine the well-defined development methodology for creating Short Sims
Test drive development tools that are suitable for creating Short Sims
Click here to learn more > or call 800.799.6280 for more information.