Designing 508(c) Compliant e-Learning in Storyline Workshop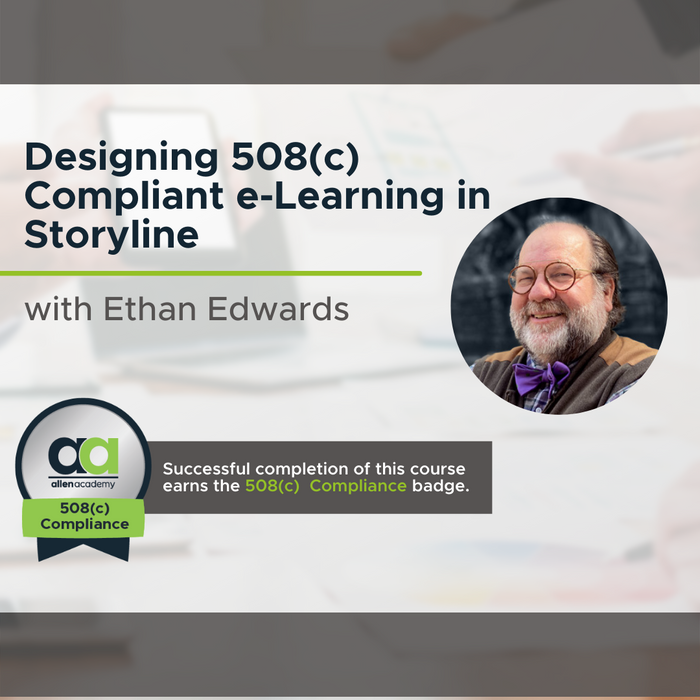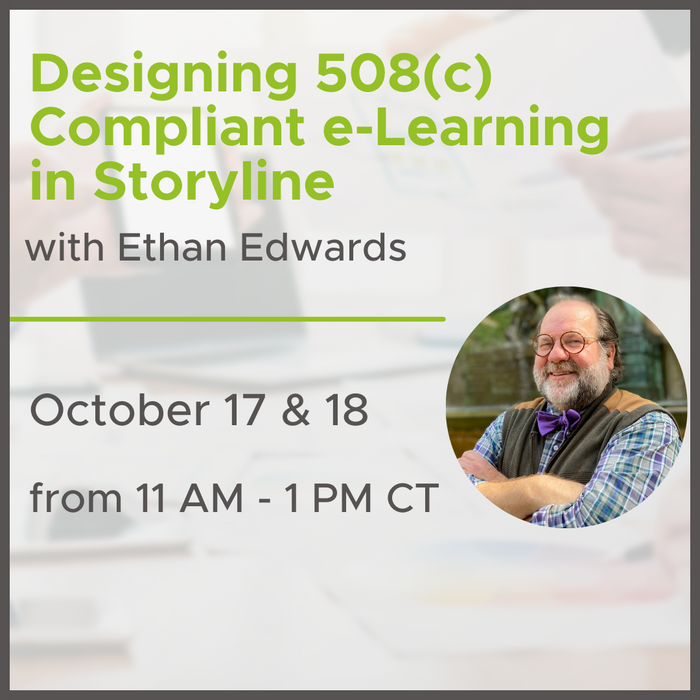 Early Bird Pricing for October 2022 Start Date: 

November 9, 2021 -

 August 28

:  $119.20 (Save 20%)
August 29 - September 25:  $126.65 (Save 15%)
September 26 -

 October 9

:  $134.10 (Save 10%)
Many learning designers are discovering the increased importance of accessible training for those of all abilities yet are faced with the challenge of creating training that is both compliant, engaging, and effective for learners of all abilities. Thankfully, it is possible to still create e-learning that teaches and reaches everyone and still uses CCAF (Context-Challenge-Activity-Feedback) instructional interaction principles.
 Join Ethan Edwards, Chief Instructional Strategist at Allen Interactions to transform learning interactions into 508(c) compliant modules. This hands-on workshop leads participants through the features in Articulate Storyline, which are useful in creating training materials that are compliant with ADA requirements while creating engaging interactions.
In this course you will:
Actively transform high media interactions, including integrated imagery and drag-and-drop gestures, into a 508(c) compliant training
Discuss design compromises and technical considerations for ADA compliant training
Explore how CCAF instructional interaction principles enhance and support 508(c) learning
 Topics will include:
Keyboard-driven interactions
Closed Captioning
Alt-tags
Tab orders
Grouping
And more
 Prerequisites: Design 102 or previous Storyline experience recommended
 Experience Level: You should have some basic knowledge of the Storyline interface.  If you've never used Storyline before, we also recommend orienting yourself to the interface with some simple tutorials prior to the first session.
Duration:

4 hours total (2 x 120-minute virtual instructor-led sessions)
Upcoming Class Dates: 
2022:  April 18 & 19 from 11am-1pm CT

2022:  October 17 & 18 from 11am-1pm CT
 Instructor: Ethan Edwards
Digital Credentials: 
The Allen Academy uses the power of Acclaim for your benefit and provides you with widely recognized digital credentials to represent your skills. Those who successfully complete this course will earn the 508(c) Compliance badge.
 Technical Requirements:
Online instructor-led sessions are conducted via webinar on the Zoom platform. (

View Zoom's system requirements here.

) You will need a good enough internet connection to view your instructor's shared screen and to access examples of online interactivity. 
You'll need access to Articulate® Storyline for this course. If you don't have access to Storyline through your employer, we recommend you install the free 60-day trial version.