Design 100: Fundamentals of Design for e-Learning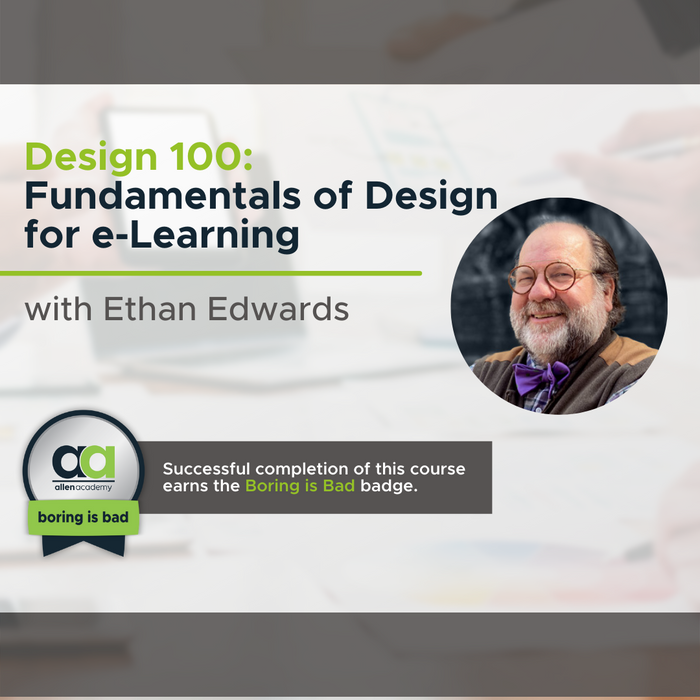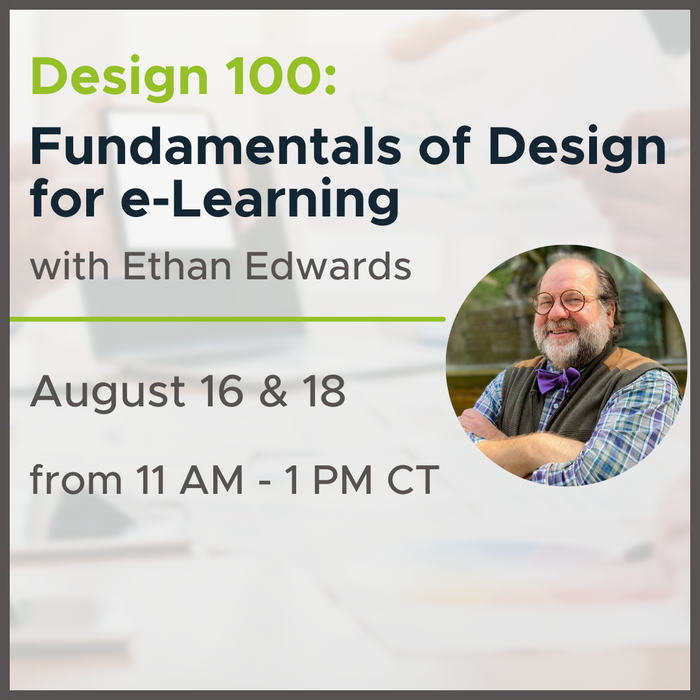 Early Bird Pricing for August 2022 Start Date: 

November 9, 2021 -

 June 26

:  $119.20

 

(Save 20%)
June 27 -

 July 

24:  $126.65

 

(Save 15%)
July 25 -

 August 7

:  $134.10

 

(Save 10%)
Boring is bad!
"Traditional" corporate e-learning is boring, deadly dull—mind-numbing, even. When instructional designers realize this, they can still struggle to create something different. The challenge is to approach e-learning on its own terms, not just as a variant of old teaching modes.
Many of the traditional assumptions about designing instruction simply don't result in captivating courseware when applied to e-learning. This course takes a deep look into the nature of interactivity and reveals the simple yet profound factors that are core to understanding and capitalizing on e-learning.
Design 100 lays the foundation for proven approaches to designing training, based on the powerful models of interactivity and engagement introduced by Dr. Michael W. Allen. Join this lively course to learn how to transform e-learning into irresistible instruction that motivates the learner and creates meaningful and memorable learning experiences.
Students explore several e-learning modules and discover how powerful a simple switch in expectations can be. We simultaneously examine a number of established design assumptions and demonstrate how clinging to these outmoded approaches result in ineffective e-learning.
This course is a foundation course for all Allen Academy Programs. 
In this course you will:
Experience first-hand the interest created by appropriately interactive e-learning

 

Apply the three critical success factors

 

Articulate the specific instructional advantages offered by e-learning technology

 

Re-evaluate the appropriateness of some traditional design assumptions

 
Prerequisites: None
Experience level: Any

Format: Virtual instructor-led training (webinar series)

Duration: 4 hours total (2 x 2-hour instructor-led sessions)

Upcoming Course Dates: 
2021:  December 6 & 8 from 11am-1pm CT
2022:  February 15 & 17 from 11am-1pm CT
2022:  August 16 & 18 from 11am-1pm CT 

Instructor:  Ethan Edwards

Digital Credentials: 
The Allen Academy uses the power of Acclaim for your benefit and provides you with widely recognized digital credentials to represent your skills. Those who successfully complete this course will earn the Boring is Bad badge.
Technical requirements:  Online instructor-led sessions are conducted via webinar on the Zoom platform. (View Zoom's system requirements here.) You will need a good enough internet connection to view your instructor's shared screen and to access examples of online interactivity. 

Free with enrollment in full ACIP program