Design 101: Instructional Interactivity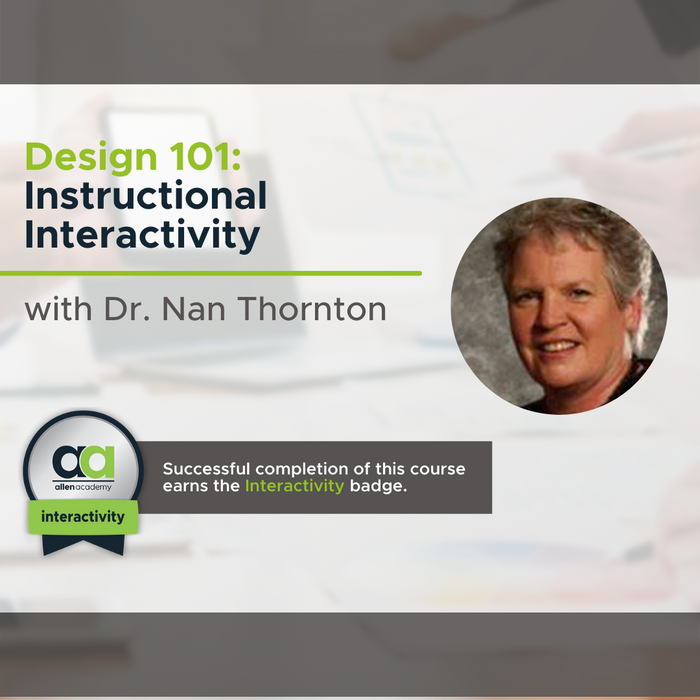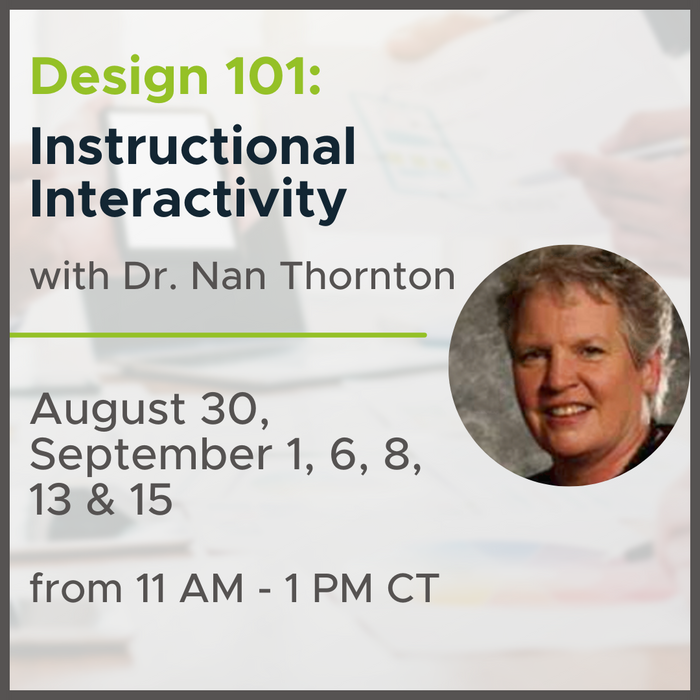 Early Bird Pricing for August 2022 Start Date: 

November 9, 2021 - July 10:  $796.00 (Save 20%)
July 11 - August 7:  $845.75 (Save 15%)
August 8 - August 21:  $895.50 (Save 10%)
Based on the industry-leading ideas from Michael Allen's Guide to e-Learning, this course will fundamentally change the way you perceive the design and development of digital training. Learn the core design principles of Learner-Centered Design, Instructional Interactivity (CCAF), the Three Success Factors (M&Ms), and the Magic Keys to enhancing motivation. Includes a brief introduction to and practice in iterative rapid design with sketching.
This course is a foundation course for all Allen Academy Programs. 
In this course you will:
Create meaningful, instructional context
Manipulate risk and consequences to challenge learners
Focus design on meaningful behavioral outcomes
Employ feedback as a crucial teaching vehicle
Apply simple design elements to transform learner motivation
Develop interactivity design ideas through sketching and prototyping
Receive guided practice material
Participate in peer networking support
Prerequisites: None
Experience level: Any
Format: Virtual instructor-led (webinar series)
Duration: 12 hours total (6 x 2-hour instructor-led sessions)
Upcoming Course Dates: 
2022:  March 3, 8, 10, 15, 17 & 22 from 11am-1pm CT

2022:  August 30, September 1, 6, 8, 13 & 15 from 11am-1pm CT 
Instructor:  Dr. Nan Thornton
Digital Credentials: 
The Allen Academy uses the power of Acclaim for your benefit and provides you with widely recognized digital credentials to represent your skills. Those who successfully complete this course will earn the Interactivity badge.
Technical requirements:  Online instructor-led sessions are conducted via webinar on the Zoom platform. (View Zoom's system requirements here.) You will need a good enough internet connection to view your instructor's shared screen and to access examples of online interactivity.