Design 102: Building Instructional Interactions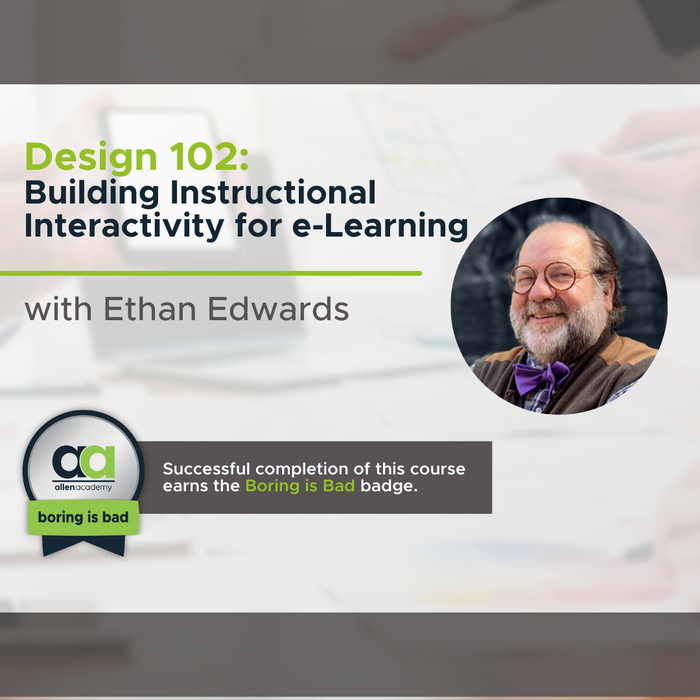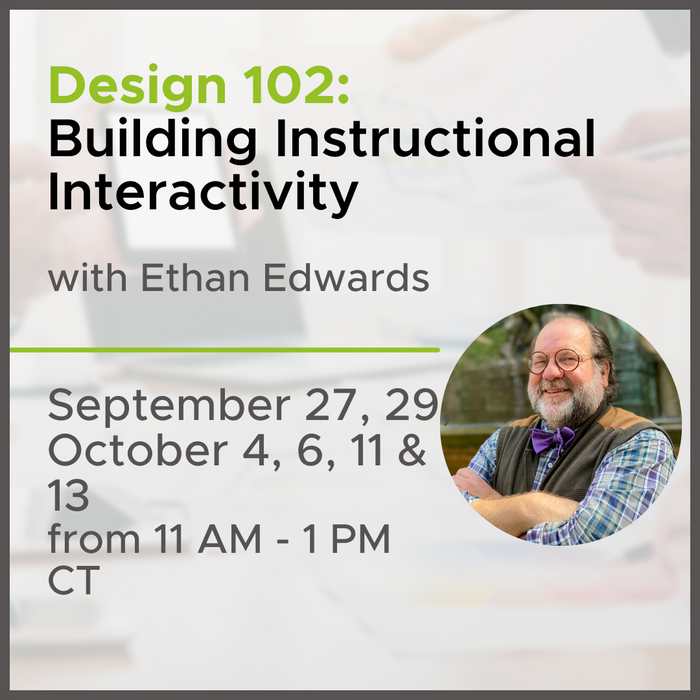 Early Bird Pricing for

 September 

2022 Start Date: 
November 9, 2021 - August 7:  $796.00 (Save 20%)
August 8 - September 4:  $845.75 (Save 15%)
September 5 - September 18:  $895.50 (Save 10%)
Bridge the gap between understanding design and being able to build it. In this course, you will use your preferred development tool to create robust CCAF interactions.
Participate in a hands-on workshop to learn how to use Articulate Storyline* or Captivate to build instructional interactions. Basic knowledge of the tools is assumed. Learners will learn how to create interactions outside of the traditional "test-question" model, focusing specifically on using imagery and hot-spot and hot-object interactivity to create compelling context, using variables to track actions and delay judgment, and non-linear sequencing. This will be a multi-week course with required independent work.
In this course you will:
Participate in hands-on workshops
Recreate award-winning e-learning activities from the Allen Interactions portfolio
Work with professionally-created assets, provided by the instructor
Create interactions outside of the traditional "test-question" model
Use imagery and hot-spot interactivity to create compelling context
Employ variables to track actions and delay judgment
Craft non-linear, learner-driven interfaces
Prerequisites: None
Experience level: You should have some basic knowledge of the Storyline interface.  If you've never used Storyline before, we also recommend orienting yourself to the interface with some simple tutorials prior to the first session.
Format: Virtual instructor-led (webinar series) with some independent work
Duration: 12 hours total (6 x 2-hour instructor-led sessions) over 3 weeks
Upcoming Course Dates: 
2022:  September 27, 29, October 4, 6, 11 & 13 from 11am-1pm CT

Instructor: Ethan Edwards
Technical requirements:
Online instructor-led sessions are conducted via webinar on the Zoom platform. (

View Zoom's system requirements here.

) You will need a good enough internet connection to view your instructor's shared screen and to access examples of online interactivity. 

You'll need access to Articulate® Storyline for this 

Design 102

 course. If you don't have access to Storyline through your employer, we recommend you install 

the free 60-day trial version

. 
*Currently offered only for Storyline. Sign up here for updates on the Captivate course.