Design 104: Practicum and Coaching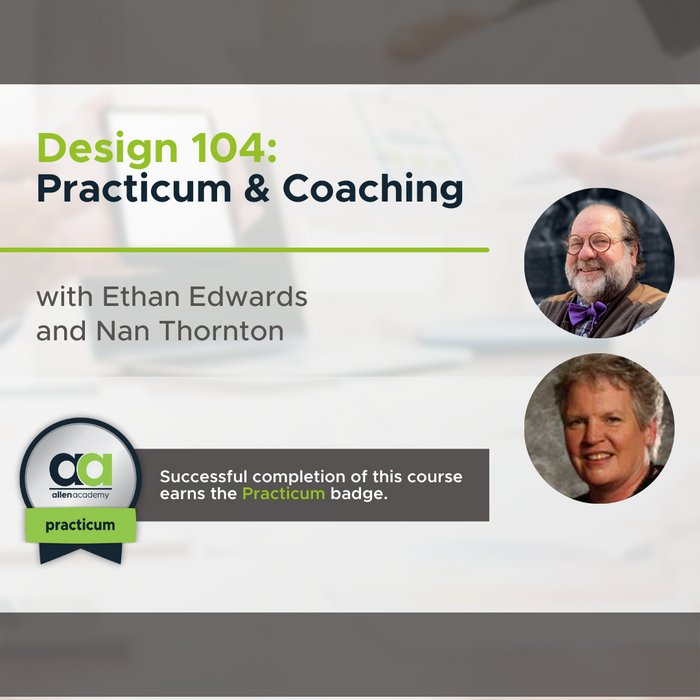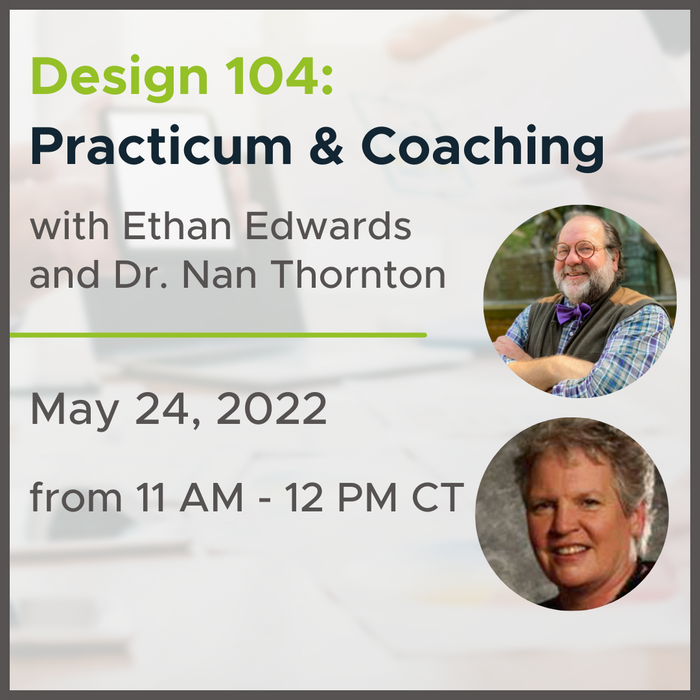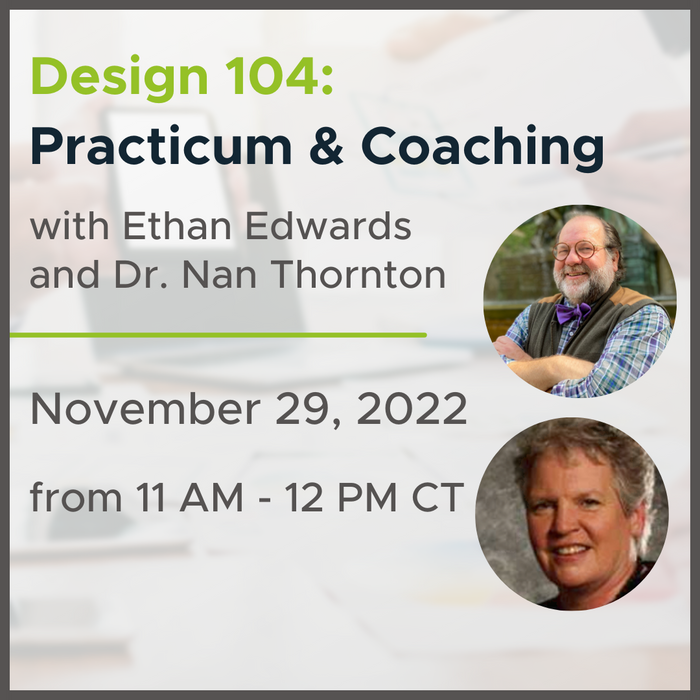 Early Bird Pricing for May 2022 Start Date:  
November 9, 2021 -

 April 3

:  $796.00 (Save 20%)
April 4 -

 May 1

:  $845.75 (Save 15%)
May 2 -

 May 15

:  $895.50 (Save 10%)
Early Bird Pricing for November 2022 Start Date: 
November 9, 2021 -

 October 9

:  $796.00 (Save 20%)
October 10 - November 6:  $845.75 (Save 15%)
November 7 -

 November 20

:  $895.50 (Save 10%)
Get expert coaching on your own project from Academy faculty!
This course is a guided practicum in which you choose the work you want to do. Your instructor will mentor you and help you maximize the instructional impact of your work by bringing CCAF and other design principles to life. 

You may choose to work on a project for a client or a "passion project" you've been itching to complete. Either way, you'll benefit from individual guidance and feedback on your project from your Allen Academy instructor.
This course is a guided practicum. You'll consult with your instructor to fulfill your unique learning needs.
In this course you will:
Design a learning experience based on CCAF and other performance-oriented design principles
Develop the learning experience in the tool of your choosing 
FOR

 

ACIP PROGRAM

 

PARTICIPANTS: Craft a learning experience that meets rubric requirements to complete your program and earn your

 

ACIP-1 credential and digital badge.
Prerequisites: While anyone will benefit from individual coaching, those who complete Design 101, Design 102, and Design 103 prior to taking this course will have the best learning experience
Experience level: Proficiency in chosen development tool
Format: Small-group webinars and 1:1 virtual meetings 
Duration: 2-4 hours of group webinars, plus coaching sessions and individual work time
Upcoming Course Kickoff Dates: 
2022:  January 5 from 11am-12pm CT
2022:  May 24 from 11am-12pm CT
2022:  November 29 from 11am-12pm CT

Instructors: Ethan Edwards & Nan Thornton

Digital Credentials: 
The Allen Academy uses the power of Acclaim for your benefit and provides you with widely recognized digital credentials to represent your skills. Those who successfully complete this course will earn the Practicum badge.
Technical requirements:  Online instructor-led sessions are conducted via webinar on the Zoom platform. (View Zoom's system requirements here.) You will need a good enough internet connection to view your instructor's shared screen and to access examples of online interactivity.