Effective Learning Strategies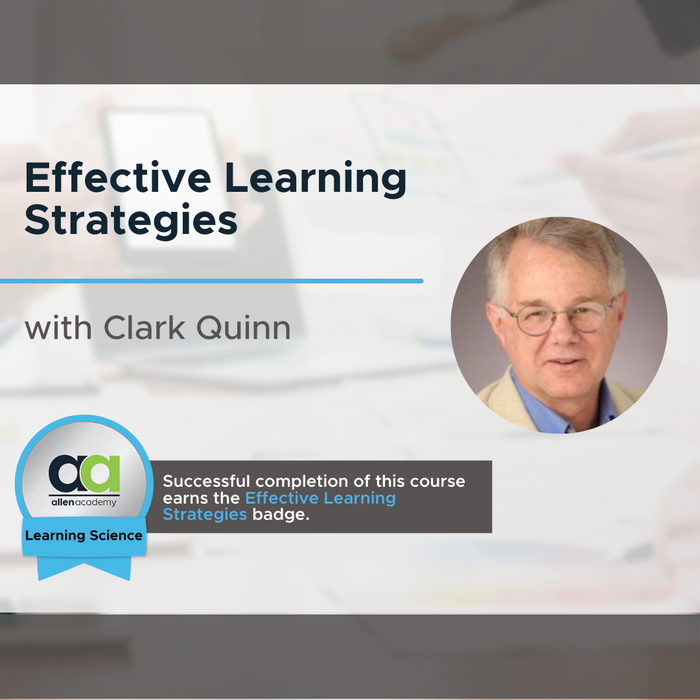 Registration for Effective Learning Strategies is currently closed. 
Please see our current course catalog for all upcoming classes.  
What's This Course About?
 In this course, you'll explore cognitive science and its implications for organizational learning. You'll understand how we process information, and the artifacts of the system. This will lead to clear implications for what does, and doesn't, work for training. You'll also be enabled to ground your practice in evidence-based approaches, avoiding myths and hype. See and understand the implications 'beyond the course' for the larger performance ecosystem.
This Course is for Those Who Want to:
Change learning practices for the better, and impact your outcomes, by understanding cognitive and learning sciences.
Be able to avoid myths and misconceptions about training and learning modules.
Develop evidence-based frameworks for organizations to improve implementation and changes organization-wide. 

Have an evidence-based framework for determining how to support performance. 
Here's How it Works:
Five weeks of weekly, virtual, face-to-face sessions with the instructor; large and small groups, and pair work.
Interactive course activities designed to improve your understanding of cognitive learning.
Mentorship and Q&A with recognized learning technology industry leader, Dr. Clark Quinn. 
Upon successful completion, you'll have widely-recognized digital credentials through Credly that represent your skills. 
Prerequisites: None
Experience level: Any
Format: Virtual instructor-led training (webinar series)
Duration:  7.5 hours total (5 x 90-minute instructor-led sessions)
Upcoming Course Dates:
All classes take place on Wednesdays.
There are no scheduled upcoming classes

Instructor: Dr. Clark Quinn
Digital Credentials: 
The Allen Academy uses the power of Acclaim for your benefit and provides you with widely recognized digital credentials to represent your skills. Those who successfully complete this course will earn the Learning Science badge.
Technical requirements:

 Online instructor-led sessions are conducted via webinar on the Zoom platform. (View Zoom's system requirements here.) You will need a good enough internet connection to view your instructor's shared screen and to access examples of online interactivity.