Performance-Focused Learning Paths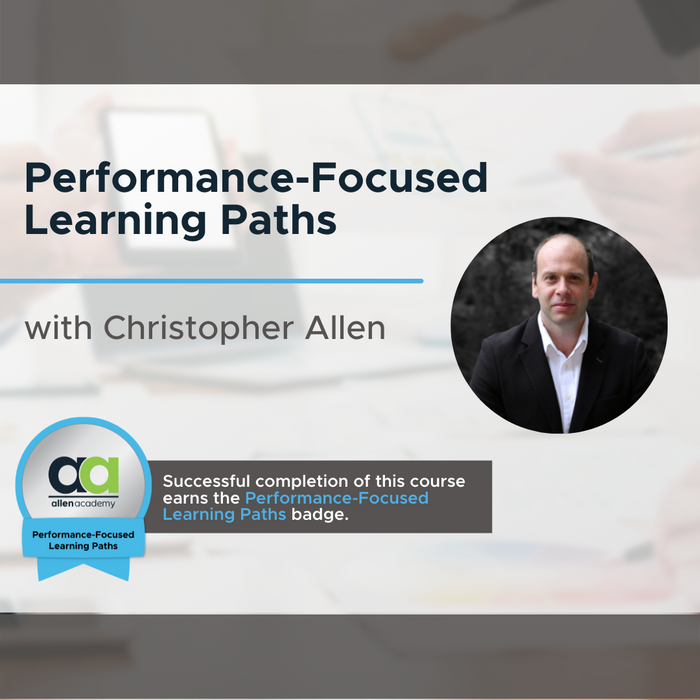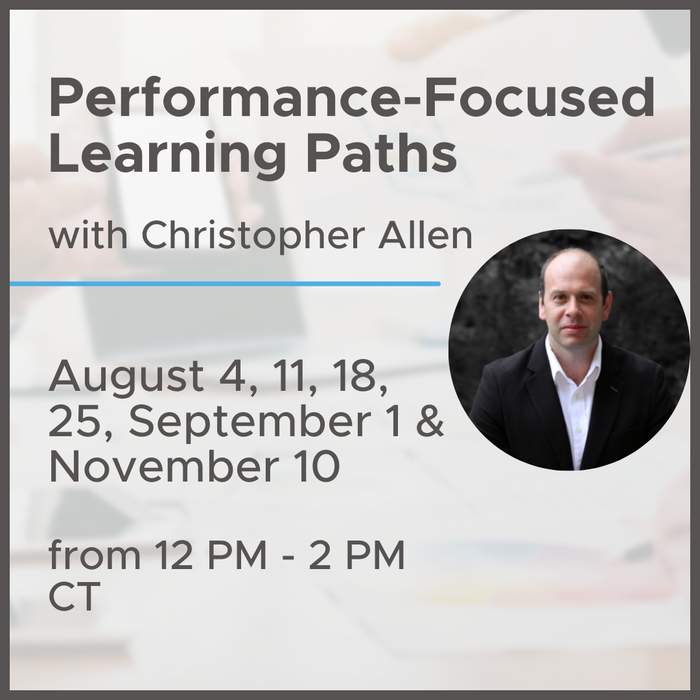 Registration for Performance-Focused Learning Paths is currently closed. 
Please see our current course catalog for all upcoming classes.  
Credentialing, Cataloging, and Prioritizing Skills
Success can be defined as doing the right thing at the right time. What if, the learning experiences and resources with which we armed our employees, students and volunteers were prioritized not by role or function, but individually prioritized for the fastest path to confident and competent performers. 

What's This Course About?
The Allen Academy (Allen Interactions) brings you this NEW COURSE designed to flip curricula development on its head, designing first for outcomes and skills organizations want to improve and second to motivate students through a visual presentation of how individual performances align to what matters most.
This Course is for Those Who Want to:
Engage in challenging activities that allow you to apply new methods of design and development to your existing or upcoming projects.

Receive

real-time feedback from peers and facilitator in role plays that prepare you for your real-world conversations.

Interact with peers in similar roles facing challenges similar and different from you.

Gain immediately transferrable skills for

 your next project while tools provide repeated application in new contexts.

 
Here's How it Works:
Five weeks of weekly, virtual, face-to-face sessions with the instructor; large and small groups, and pair work.
Self-paced tool practice, exercises, and reflection each week.
Prompted weekly discussion with peers and instructor.
Focus on conversations and the holistic context ensures you can overcome the barriers that usually get in your way.

Interactions with your team on course content encouraged.
Part of a larger, 5-course Learning Leaders program to change the way your learning team thinks of itself, is seen in the organization, and how it functions.
Upcoming Course Dates:
All classes take place on Thursdays.
No classes currently schedule

Digital Credentials: 
The Allen Academy uses the power of Acclaim for your benefit and provides you with widely recognized digital credentials to represent your skills. Those who successfully complete this course will earn the Performance-Focused Learning Paths badge.

About Allen Academy:
The Allen Academy combines decades of experience to help tackle performance problems and concerns that leading and development and instructional designers alike face in their quest for creating and deploying content that captivates audiences. 
About Christopher Allen:
As the Chief Strategy Officer at Allen Interactions, Christopher Allen uses his experience to create the best business practices when it comes to e-learning systems. His primary role focuses on helping organizations to prioritize and prescribe the best treatments to achieve business outcomes. He has over a decade of experience in digital content creation and distribution.
Allen speaks frequently as an industry leader on topics such as digital education, authoring technology, instructional design, and agile development drawing. He has held positions in sales management and as a magazine publisher. He received his Master's Degree in Organizational Management from The George Washington University out of Washington, D.C.
Allen is an active triathlete, a SAM expert, and Agile Certified Practitioner (PMI-ACP).
As a SAM Expert and PMI-ACP, he is living and breathing the fundamental principles of Agile Development both in the creation of enterprise software and learning applications at Allen Interactions.